Alchemists Beauty Solution
Age Beautifully
Alchemists Beauty Solution is an anti-aging all natural liquid supplement. So easy, so effective.
Alchemists Beauty Solution is formulated with a robust selection of essential ingredients scientifically proven to promote healthy skin and collagen production, in a daily 2oz drink that will repair and rejuvenate skin from the inside out. Alchemists Beauty Solution is all-natural, organic, and plant based.
Substances such as collagen, hyaluronic acid & vitamin A, to name a few are highly abundant for skin cell regeneration during our youth. As we age our body increasingly produces less of these building blocks responsible for youthful healthy skin, resulting in fine lines and wrinkles.
Our beauty supplement replenishes the body on the cellular level with many of these building blocks to rejeuvanage & repair skin liken our youth.
Benefits of
Alchemists Beauty Solution


-Stimulates & Increases collagen production

 

-Increases moisture retention

 

-Reduces fine lines and wrinkles

 

-Accelerates production of new skin cells

 

-Increases protection from environmental

damage

 

-Inhibits collagen degradation

 

-Powerful antioxidant

 

-Overall promotes healthy, radiant, beautiful skin
Ingredients
Aloe, Ascorbic Acid, Alpha-Tocopherol, Beta Carotene, Branched Chain Amino Acids, Ferulic Acid, Grape Seed Extract, Hyaluronic Acid, Glutamine, Proline, Botanical extracts,Water
Flavor Profile
A fruit lover's infusion, flavored with antioxidant-rich ingredients; hibiscus, elderberries, black currants, raspberries & blueberries
Science and Nutrition 101
Why Does Our Skin Age?
The building blocks to promote healthy skin become less abundant as we mature. Aging skin is due to damage caused by internal conditions like genetics, the inevitable decrease in collagen production (1% per year), and external conditions like chronic exposure to pollution, UV rays, chemicals, and toxins. When these stressors take hold, they cause oxidative stress. This stress can ultimately lead to aging skin. Antioxidants are the defense against oxidative stress.
How it Works: 2oz daily of Alchemists Beauty Solution will provide your body with the essential nutrients necessary to repair, protect, rejuvenate your skin from head to toe
For a complete detailed explanation of how each ingredient will benefits you skin, The Science of our Ingredeints, will provide you with the necessary information.
Why from the inside out?
The skin is composed of two layers; the epidermis (the outside) and the dermis (the inside). The epidermis protects the body from water loss, harmful chemicals, and mechanical injury. The dermis layer is composed of collagen and elastin fibers giving our skin its toughness and elasticity. In an ideal scenario, there is a balance between losing old cells and new cells' production in the epidermal layer. As we age, our body slows down the production of the components responsible for skin health and youthfulness. Topical products like skincare creams, lotions & serums are not as advantageous; there is no proof that they are absorbed all the way to reach the cells in the dermis where collagen production takes place. Additionally, the application of these lotions, serums, and creams are limited to specific areas of the body. We created a product that works for our entire body, not just a particular location, and a product where the ingredients are available specifically to the cells where collagen production occurs. We formulated Alchemists Beauty Solution with a robust selection of essential antioxidants and nutrients, building blocks that renew and protect your skin, Alchemists Beauty Solution repairs and rejuvenates the skin from the inside out.
Why not collagen?
Collagen is an essential protein we naturally produce that keeps our skin firm, plump, and young-looking. Collagen production begins to decrease in our mid 20's. We designed Alkemests Beauty Solution with a robust selection of scientifically proven ingredients to increase collagen formation within the body.
So why did we add amino acids to our beauty solution instead of collagen? Collagen supplements are animal byproducts and must be broken down by digestion before releasing the amino acids we need to build more collagen. This inefficient approach dramatically decreases the likelihood of any beneficial substance, actually reaching our skin cells.
Our solution contains the primary plant-based amino acids that form the collagen molecule. These amino acids are bioavailable, meaning they are directly absorbed into your bloodstream, requiring no break-down through digestion. With support from other key ingredients like Vitamin C and Hyaluronic acid, our bodies use the amino acids to synthesize the collagen we need for healthy skin.
-I fell in love with the notion of skincare products working from the inside out! It makes so much sense. Quality ingredients in what I put in and on my body are extremely important to me. These are of the highest quality! I've been using the tonic for two weeks and I have been so pleasantly surprised by the difference I've seen. Not only in my face but ALL of my skin! The texture and elasticity are greatly improved and I'm definitely noticing less fine lines! And it tastes great! I can already tell that this is something I won't be able to live without!

-Elaina W.
I have been an Aesthetician for decades. I am always looking for a product that uses the highest quality ingredients, as well as doing what it claims to do. I have worked with a plastic surgeon and also at a Relais & Chateaux property. I have always been the one to research the quality of products.
In my experience, there are few products out there that meet my expectations. Alchemists Beauty, is one product that does. When I use it, I see the difference within a day or so. My skin looks healthy more hydrated. my nails are stronger and I feel more energy. Thank you

Dominie G.
I've been using Alchemists Beauty for about 2 weeks and can't believe the changes in my skin. I see a difference in tone that is quite surprising. It's truly a miracle potion!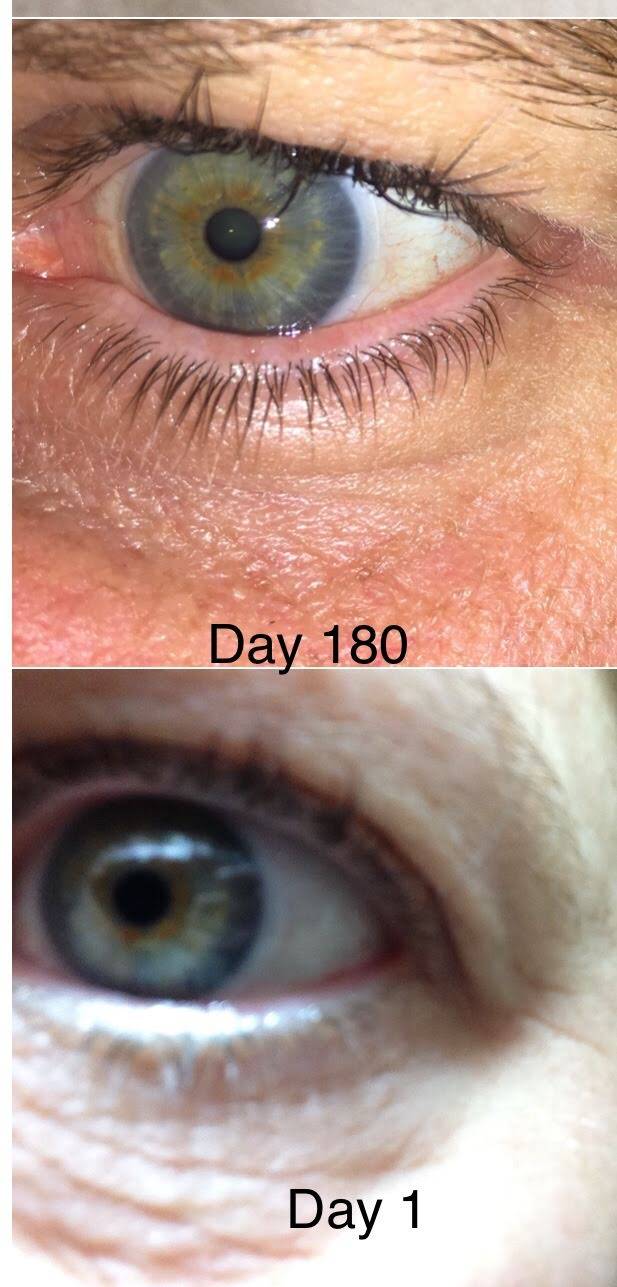 -Susan B.